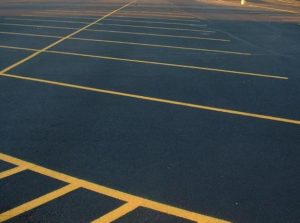 Maintaining your line striping will dramatically increase the overall appearance of your facility. Many property and facility managers use striping as an affordable means to boost the appearance of their properties for safety reasons and curb appeal. When properly planned and painted, traffic markings create a sense of safety for vehicular and pedestrian traffic. South Shore line striping services can help you plan and determine the best layout for your property.
South Shore uses only the highest quality and eco-safe line striping paints to insure your facility looks professional and safe.  Our line striping technology allows us to paint sharp, straight and uniform markings.
South Shore can handle any size job large or small for all your asphalt paint striping marking and directional signage. From large commercial parking lot projects to smaller projects such as handicap parking space markings, South Shore provides quality workmanship and gets the job done right, on time and on budget.  Whether you need refreshed or brand new parking lot lines, fire lane striping, handicap space lines or traffic control signage, we can handle your asphalt line striping needs at affordable prices.